Adult and Phase 2 Treatment
Phase 2 and Adult Treatment
After the Twelve Year Molars Erupt
Many patients present to the orthodontist with all of their permanent teeth in place and wish to have them aligned.
A few parents, are "tuning up" their smile following a period of poor retainer wear as this patient shows.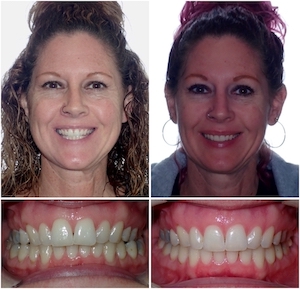 Some patients start early to "fix" a developing problem and then finish the job at a later date.
Some patients get their "jaw problem" such as an overbite fixed as an adolescent then align the teeth with braces or as in this persons situation, with aligners at a later date.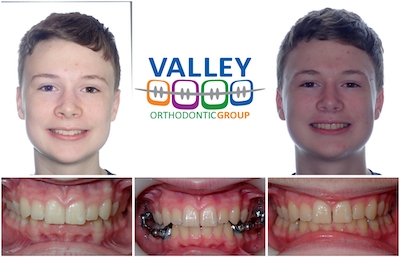 This patient had his protruding teeth "moved back" first for cosmetics then had the "bite" fixed as a teen.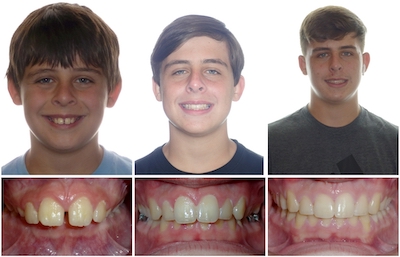 These patients either have previously been evaluated and placed on a recall schedule for later treatment or have been unable to obtain care at an earlier date.
This is also the period when patients who have had earlier (Phase 1) treatment may return to have their smile and bite perfected.
Example of Phase 2 Treatment following early or Phase 1 treatment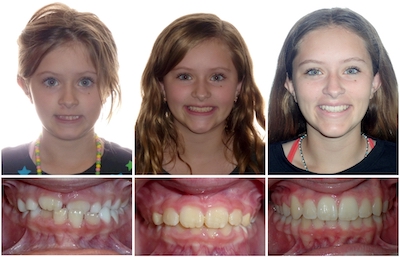 Patients with all of their permanent teeth in place may either utilize braces or aligners to create the great smile.
Many times, patients present with jaw issues such as underbites and protrusions which may require special devices such as or corrective jaw surgery to balance the face bones.

In addition, some of the specialized devices that are used are:
When all of the permanent teeth are in place not only can the alignment be perfected but other corrective measures such as gummy smiles and crooked bites can be addressed often times without the use of invasive surgery.
Other dentists refer patients for treatment of such situations as missing teeth or preparation for cosmetic veneers or "capping" of the teeth.
In all of these cases, Drs. Grob and Loop are experienced with treatment proposed by the dentist or other specialist and will work with the most advanced diagnostic and treatment techniques to create that GREAT SMILE FOR LIFE.
Notice the results of Comprehensive Adult Treatment