With Face First Orthodontics™, the smile is developed from the outside in, as opposed to just looking at the teeth in a straight on view. Facial features are analyzed at the initial examination so that the final smile is complimentary to the face structures and muscles.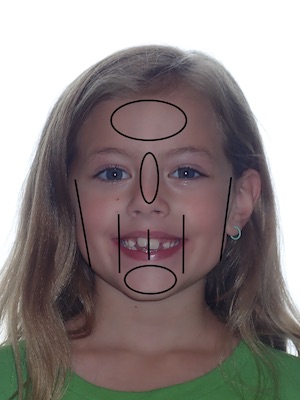 It is the feeling of Dr. Grob that the art and science of orthodontics has developed in response to many oral habits of patients of all ages in addition to hereditary influences.

Often times, oral habits are at the center of facial development and those will be identified, and an attempt will be made to help minimize their impact on the developing smile.

Simple steps such as chewing with the mouth closed, breathing through the nose and keeping the tongue at the roof of the mouth are basic techniques that will be employed to deliver that Great Smile.

We also utilize patented devices that encourage jaw development as well as proper tongue and face muscle posture.

For motivated patients, exercises will be prescribed to assist with this transformation.

The result will be an attractive, and healthy grin USUALLY without removing permanent teeth that will help to support an open airway and attractive face features as one ages.
Notice in this photo how the face is viewed for potential orthodontic treatment.